There's no doubt Christmas trees are a part of yearly traditions, and there's no denying they're fun to decorate. But along with the creating the ultimate tree, comes a big mess and the need for enough space.
If you're wanting to feel festive this year, but looking for something that's simpler to maintain and takes up less space; these are the options for you.
Pine Cone Tree
To start, collect a good amount of pine cones. Then from here, you can stack them up and hot glue them together into the shape of a tree. Add on any additional decorations your heart may desire.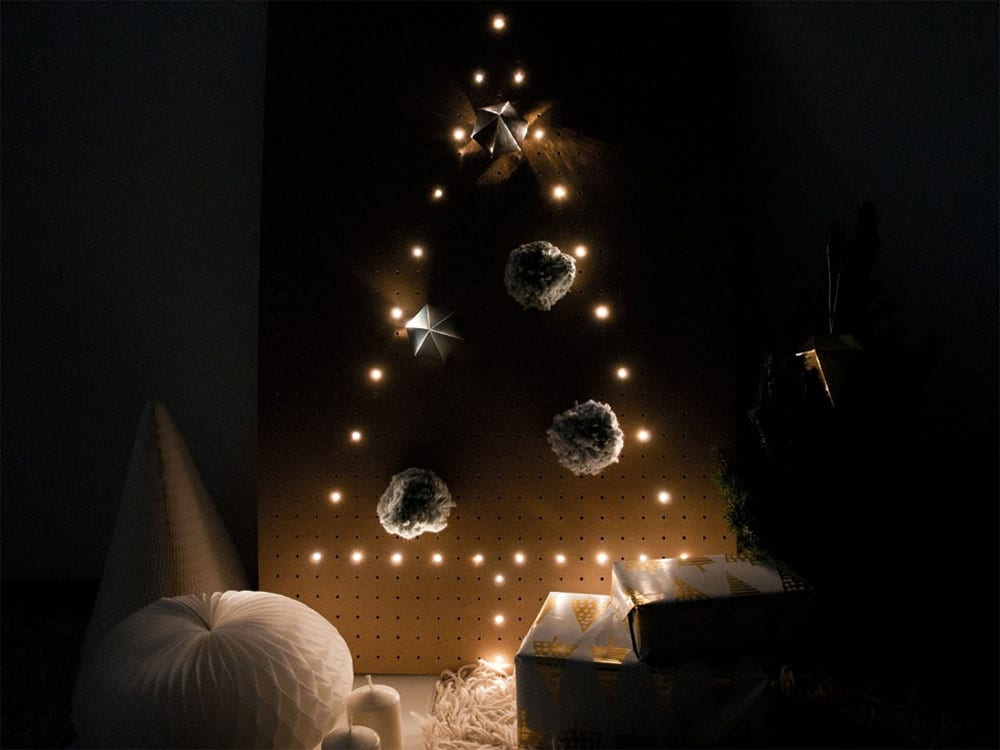 Peg Board Tree of Lights
Grab yourself a wood plank and add pegs. Next, choose your favorite threads. Hemp, twine or simple sewing thread are all good options. If you're looking for a little extra magic, twinkling lights do the trick. Loop and create a tree around the pegs with your chosen thread or lights. Or go the extra mile and use them both!
Wall Decal for All
A large sheet of paper and some markers is all it takes to create this winter wonderland. if you're in a bind or are looking for really low maintenance– this is the way to go. Consider this Holiday coloring therapy, and display it on your wall.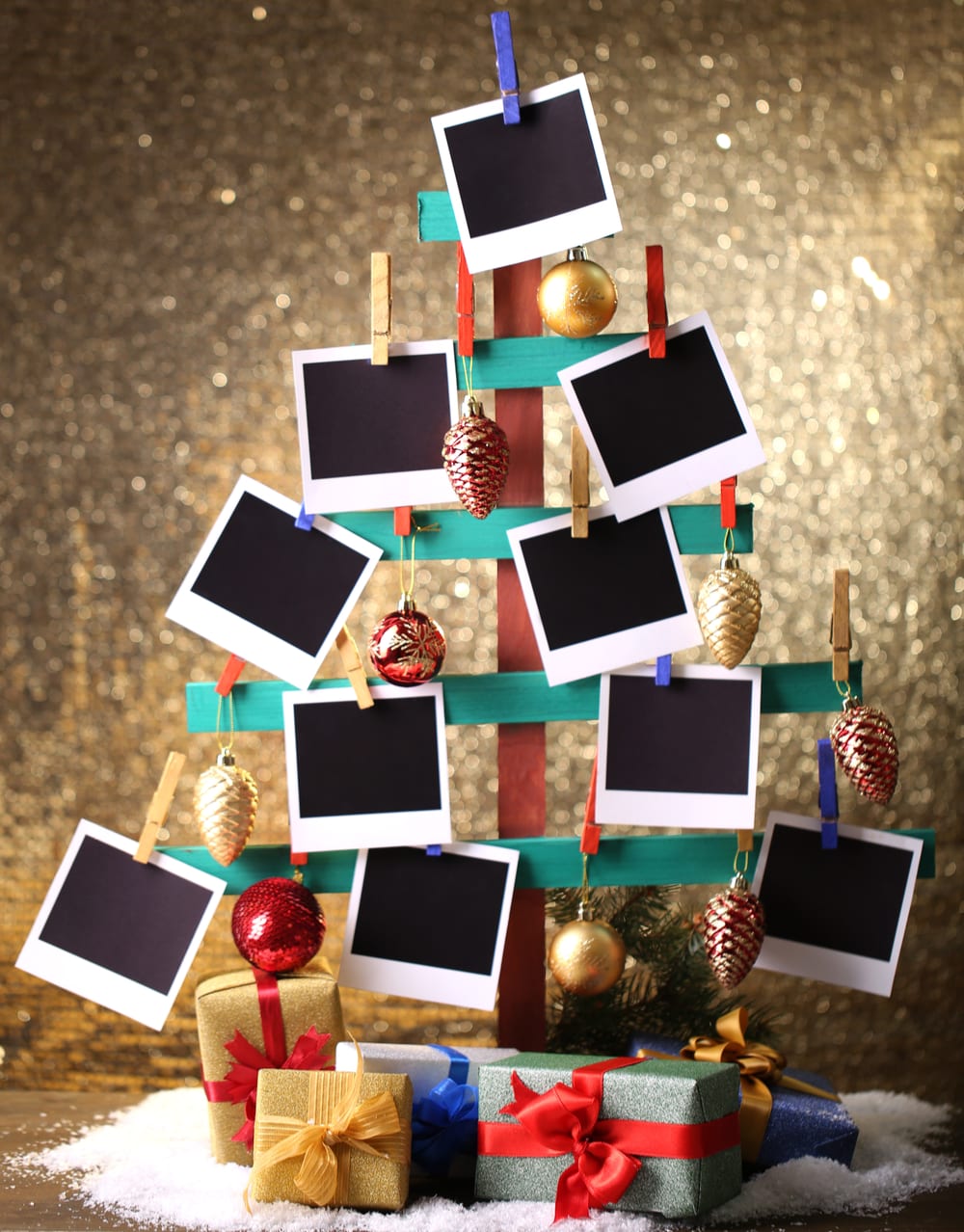 Photo Boxes of Years Past
Have you seen photo boxes? They're pretty awesome. First of all, they're a unique way to display captured memories. Second, you can stack them and place them to your liking. Lastly, you can shape them into a tree. That's right, stack em' up and take a peek at the memories you've made. It's a simple idea and a great way to focus on where life has taken you.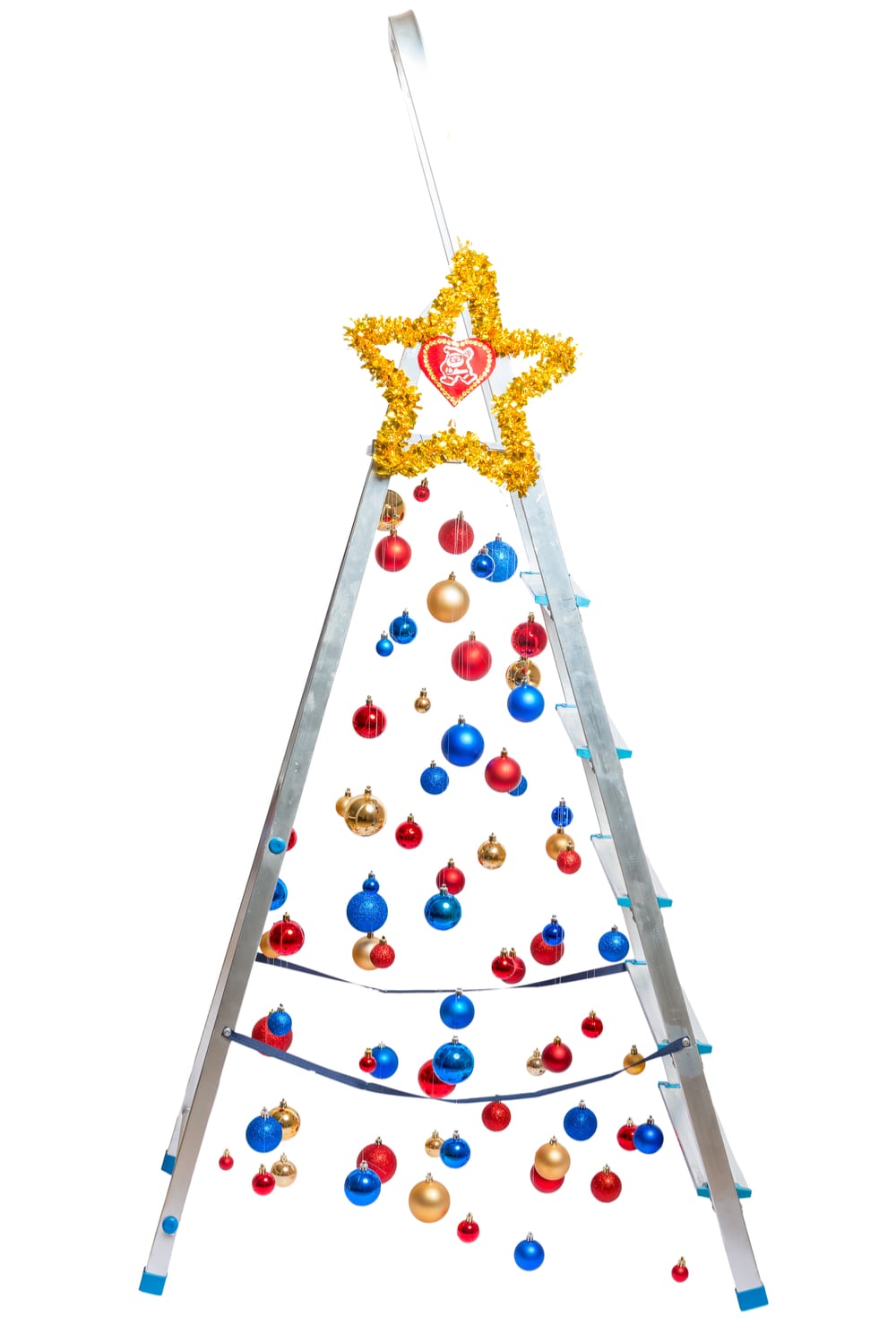 Ladder Tree
Simple as could be. If you have a cute single ladder, lay it against your wall and decorate it with a few lights and ornaments.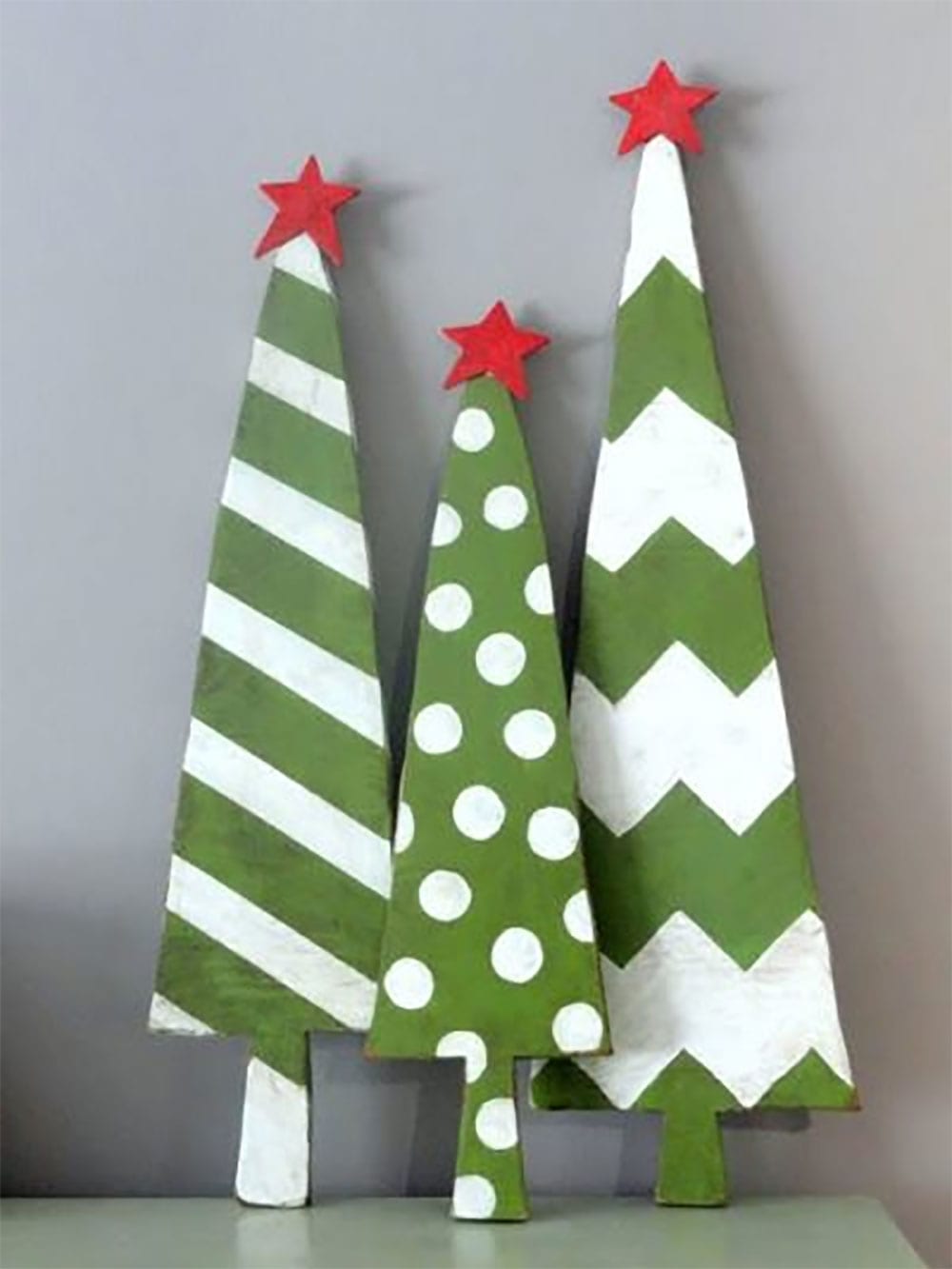 Painted Plywood Holiday
Think of the plywood as a canvas for your dream tree. Gather supplies to paint your ideal image.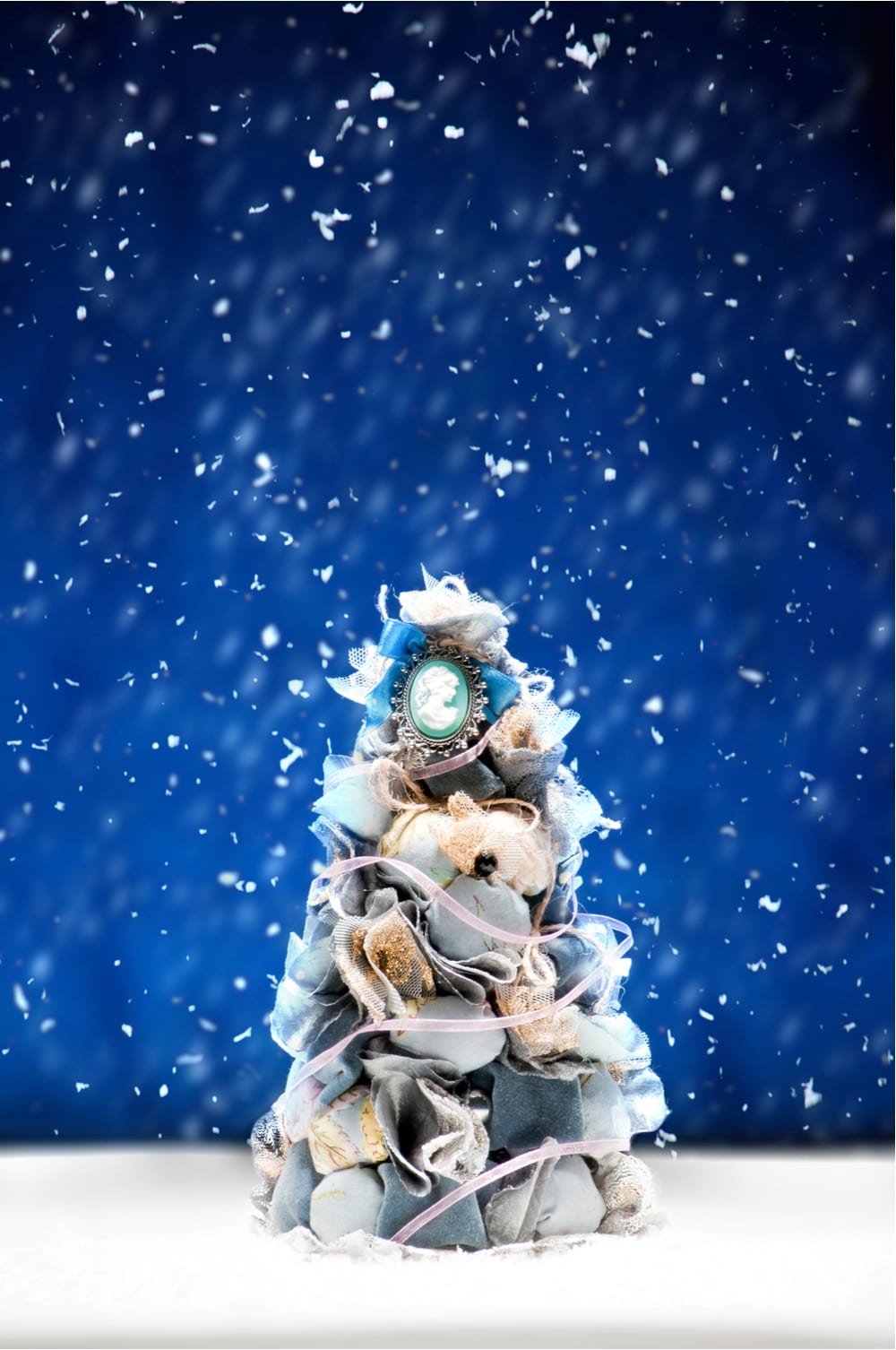 Oh Tissue Tree, Oh Tissue Tree
You can always count on tissue paper; the kind used for filling up gift bags, and coming in handy when you've run out of wrapping paper. For this project, tissue paper is the replacement for the tree. Glue the paper into your own design. Whether you choose a fabric, wood, or a big piece of cardboard; it works wonders.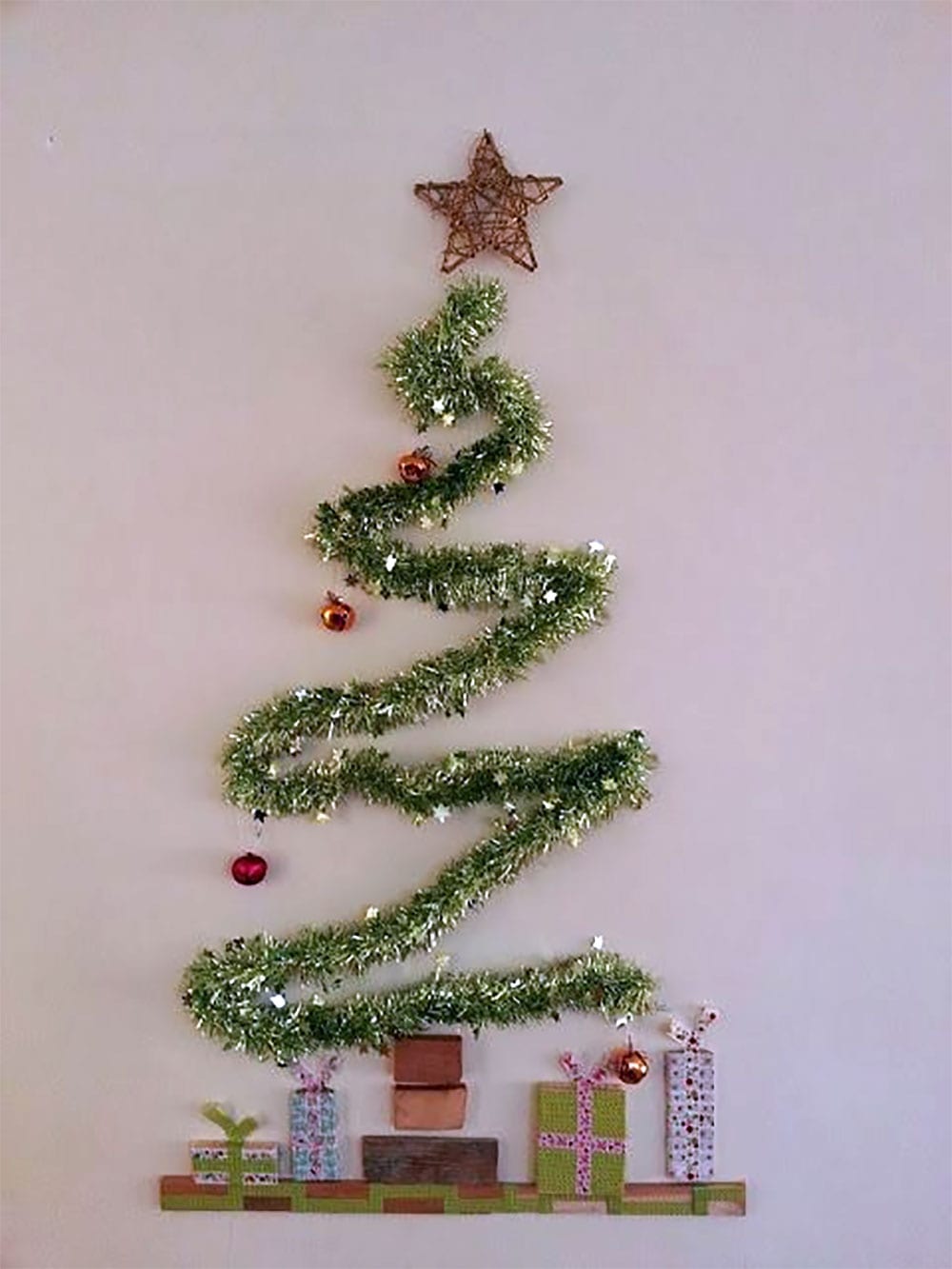 Floating Garland
Use a garland to string across the wall; a similar look to a floating shelf. Trail it down into a triangular shape. Simple and sweet.
Story Time Tree
If you're a fan a literature, you will surely love this. Gather a stack of books; either holiday themed or whatever you have on hand. Then pile them on top of one another until they're in the shape of a tree.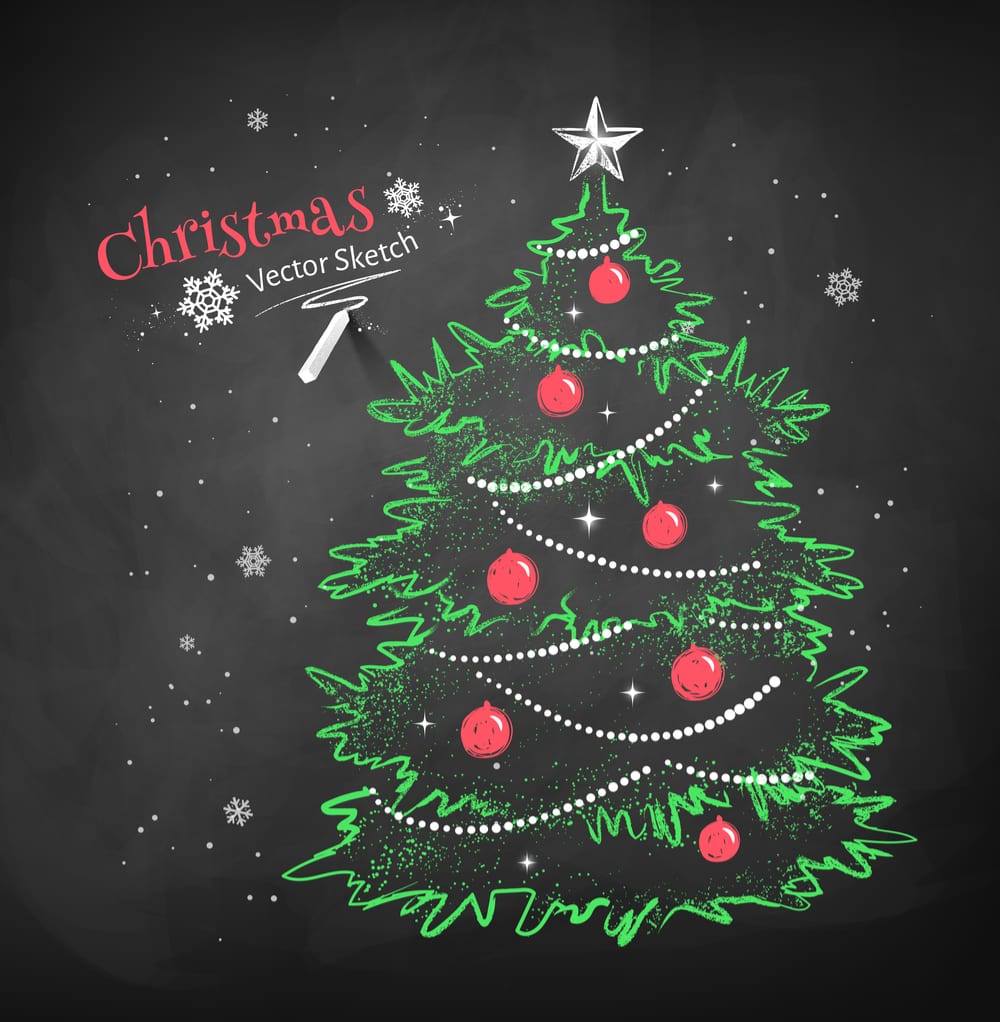 Oh, Chalky Night
This concept is similar to drawing your own display. In contrast to, then using markers, chalk is the magic maker here. Feel free to sketch in a cozy fireplace and some reindeer by a window.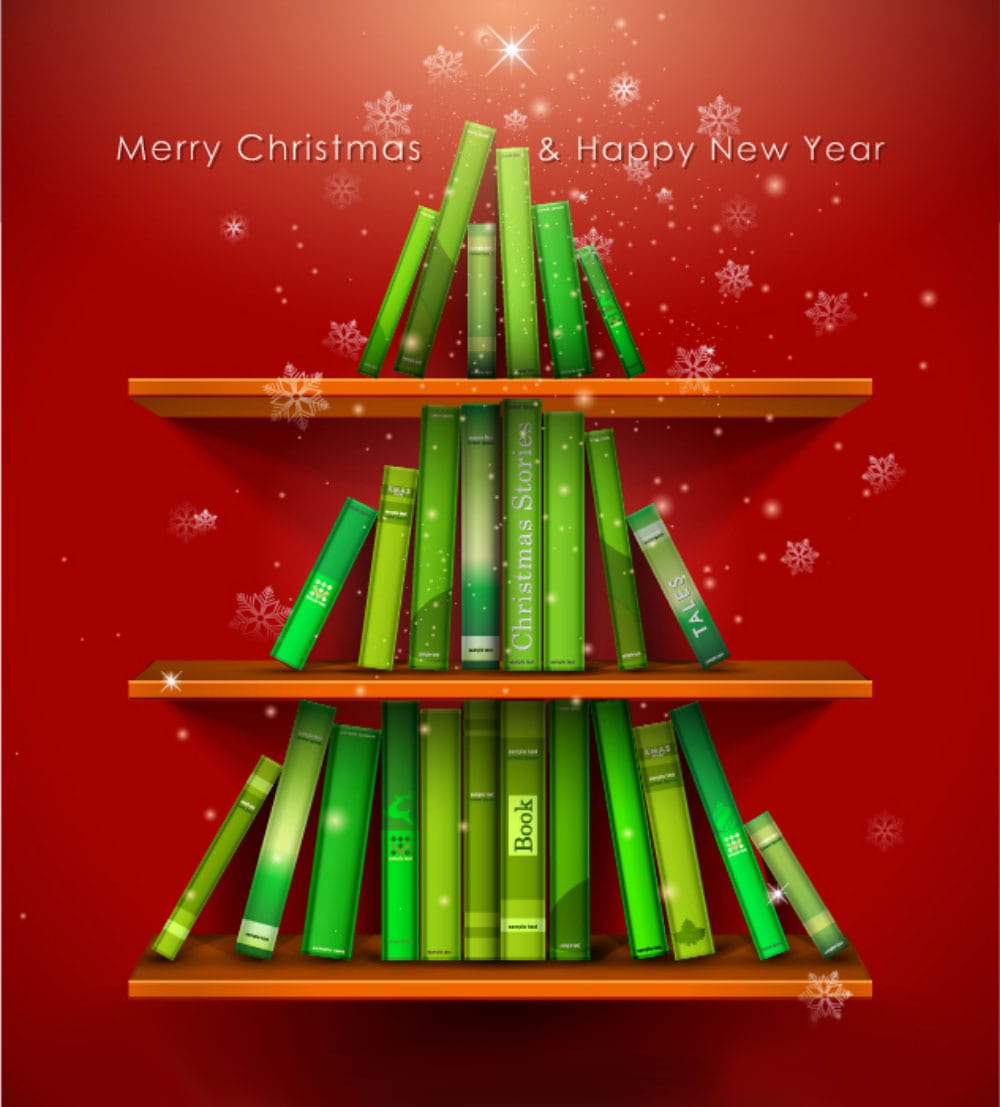 Bookshelf Tree
Do you have an awesome bookshelf? You know, the type that starts from the floor and travels all the way to the ceiling. If this sounds like your shelf, here's a tree solution. Whether it's books, movies, flowers, etc., shape the objects on your shelf into a tree.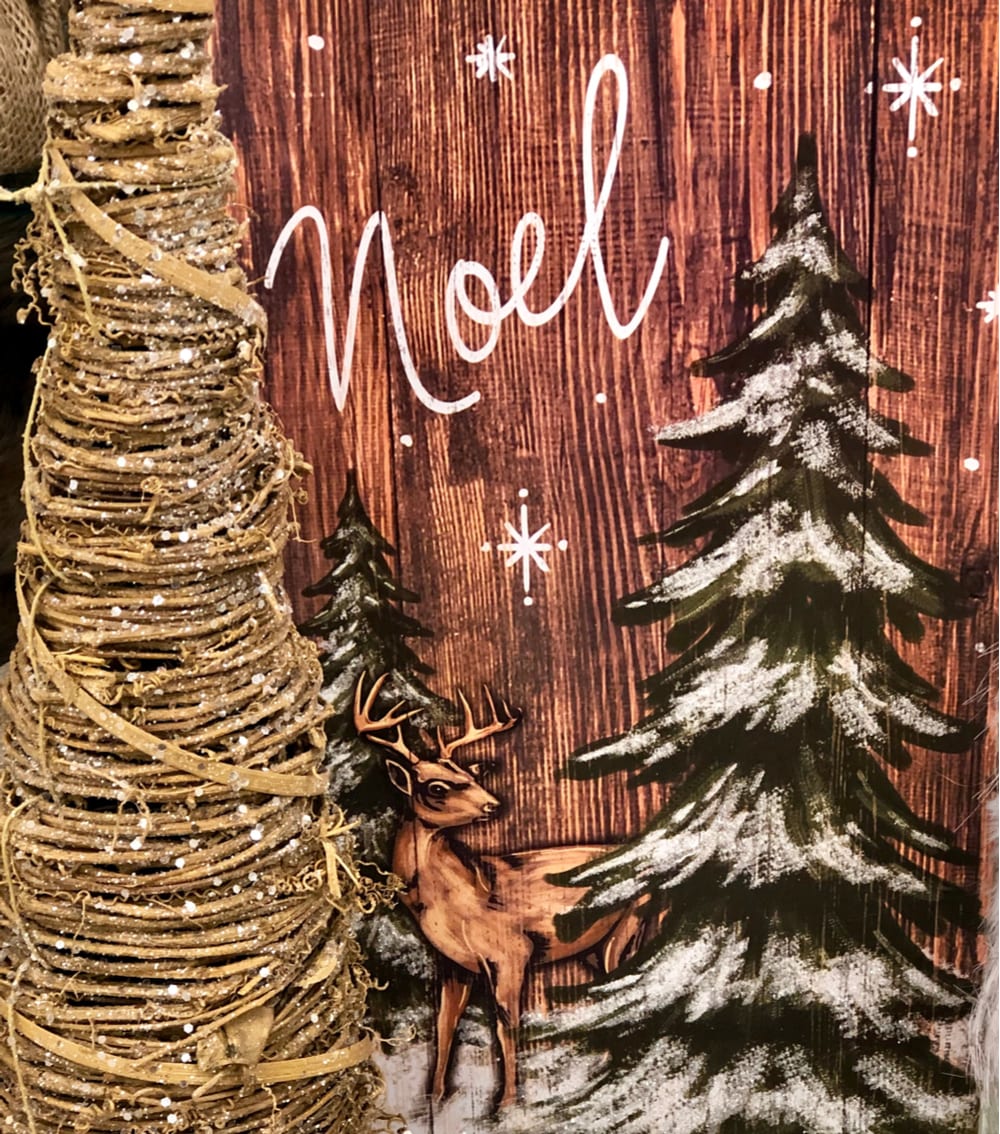 Twinkle Twinkle Little Twine
Oh, twine. You seem to fit any crafting need. And even better, you're cute. Wrap twine around a triangular shaped piece of foam, or even create a tree shape out of wire. Once it's all neatly covered, string twinkling lights, and a few ornaments.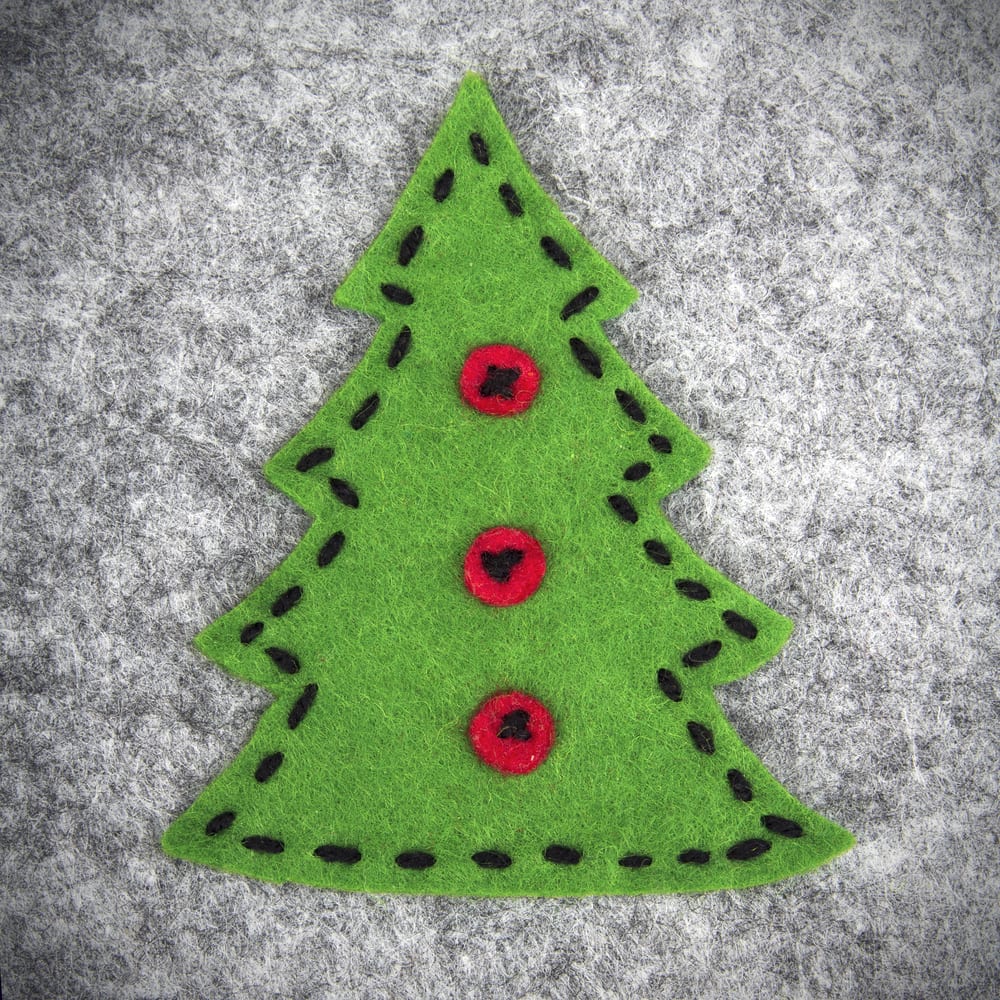 "Twas The Night Before Fabrics"
There are many ways to work with a fabric tree. A few options are; a tapestry or curtains with a tree already on it. Or, you can trace, sew and hem one yourself. Next, hang it up. It's as simple as that!
Mother Nature's Gifts
Take a walk in nature and gather items that catch your eyes. Branches, flowers, and pine cones are great examples. Next, either glue them against a foam or wood board or connect them together with string in the formation of a tree; and hand them from the ceiling.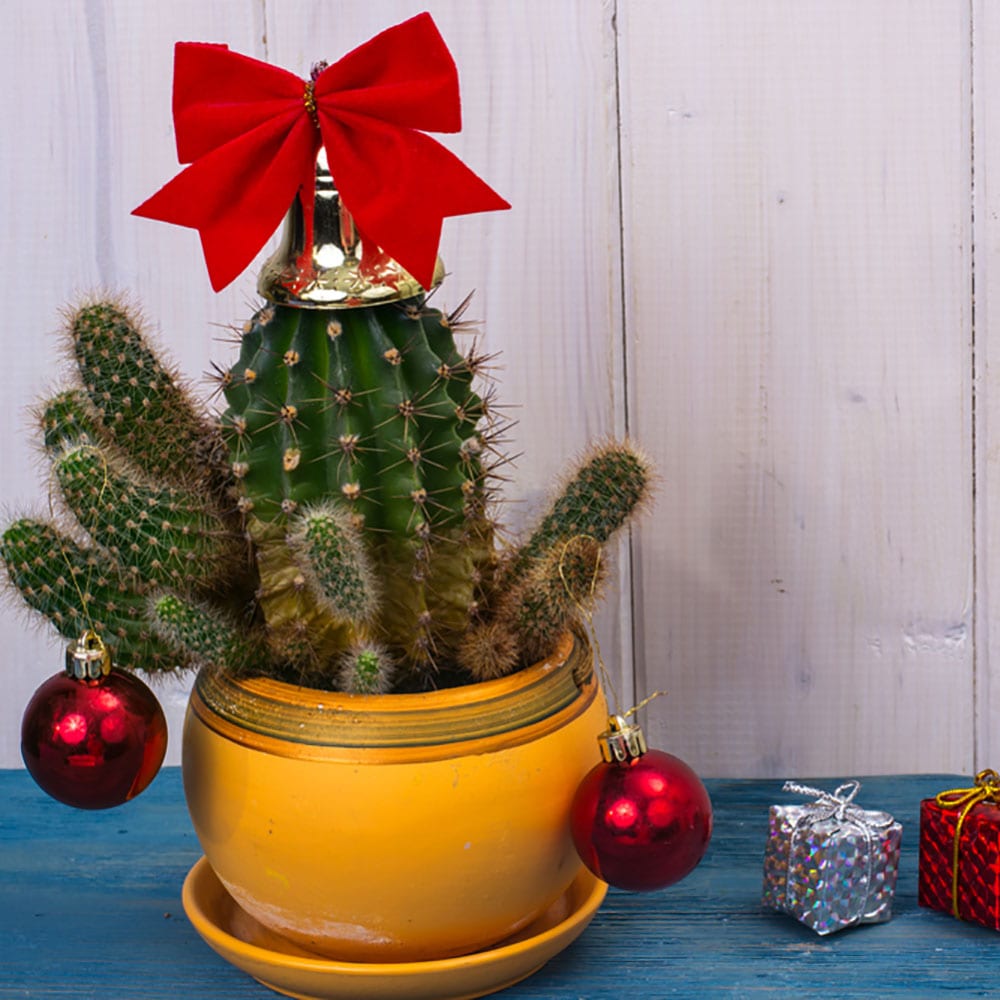 Under The Cactus Tree
The title says it all. Yep. Drape a string of lights or a felt garland along a sweet little cactus, and you have yourself an adorable Cactus Tree.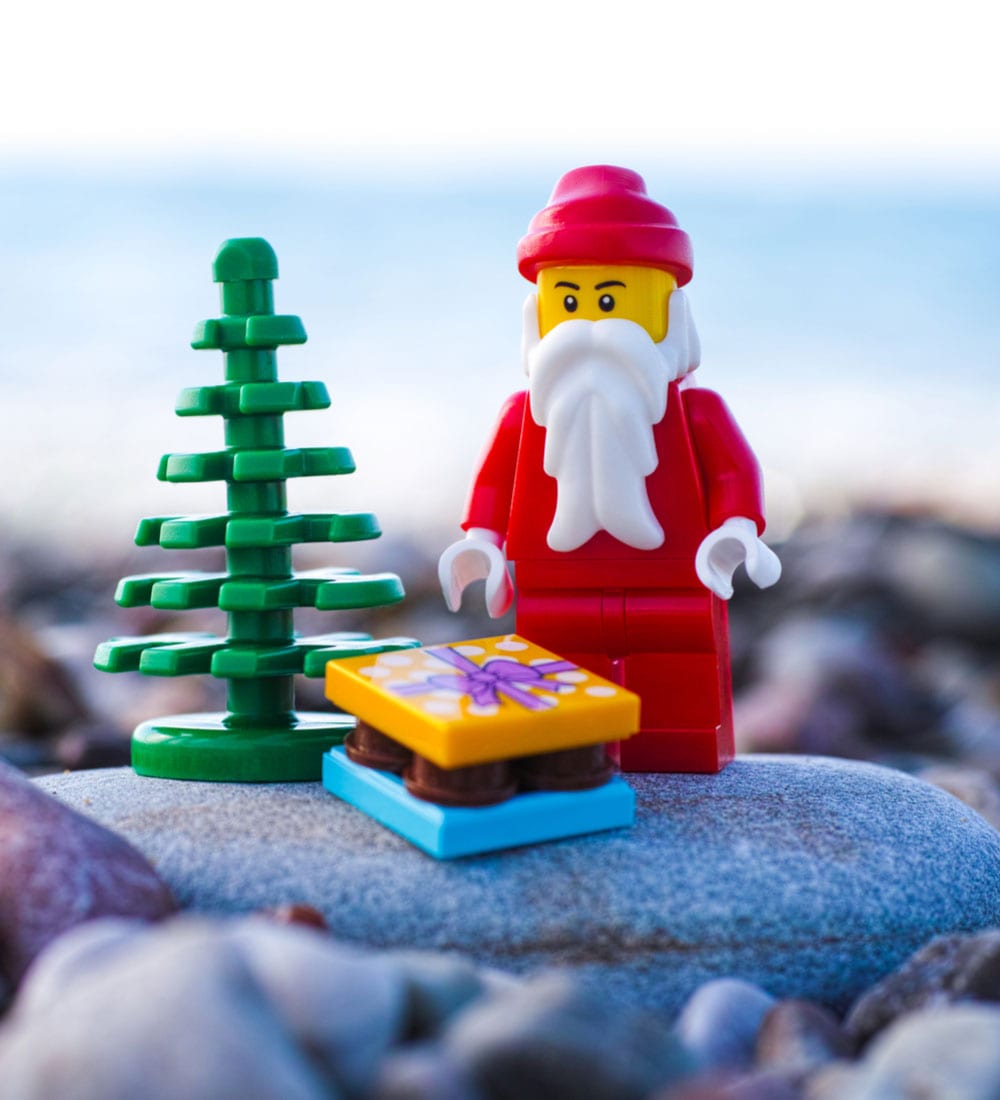 Lego Nation Tree
If you want to feed your inner child's desires; this one's for you. Clearly, you will need Legos. Either bust out your secret stash of, or head to the toy store… unleash your building skills by building up a Lego Tree.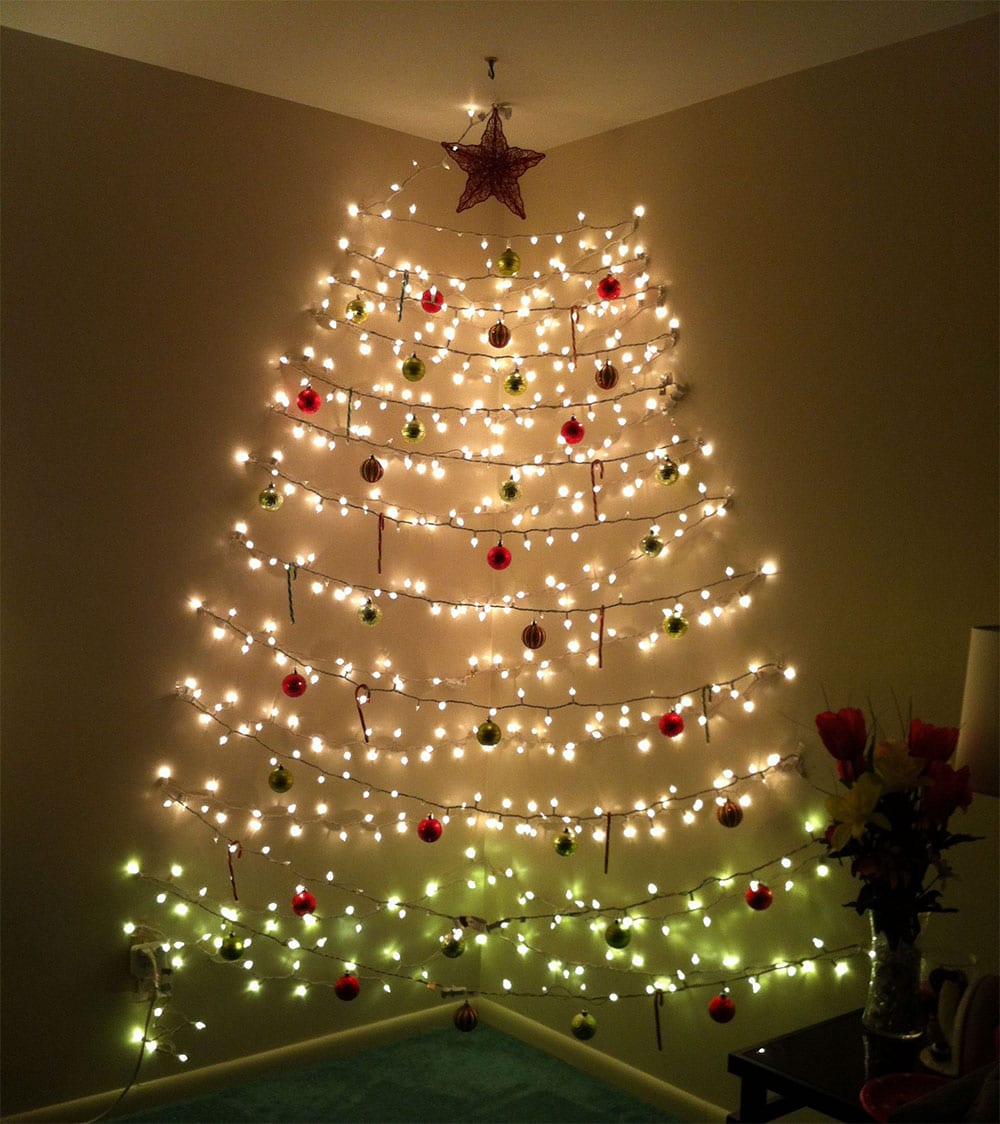 Round' The Corner
This option really opens up the room. Find a good outward facing corner; create a tree outline with string or thread on both sides of the wall. It's easiest to start at the top and work your way down so that the center of the tree is actually the along the corner of the wall. Add in lights or decorations.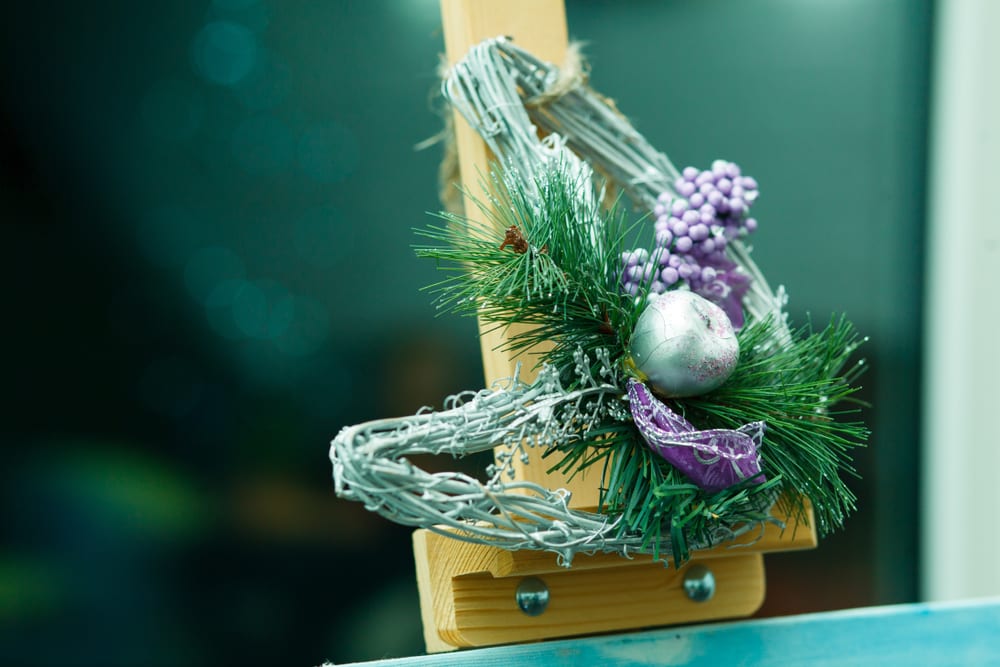 Easel Tree
Is there an artist in the house? Easels are normally used for paintings; now it'll be used as a 3D display. Similarly to a tree, hang lights over the easel, then either draw or hang ornaments along it.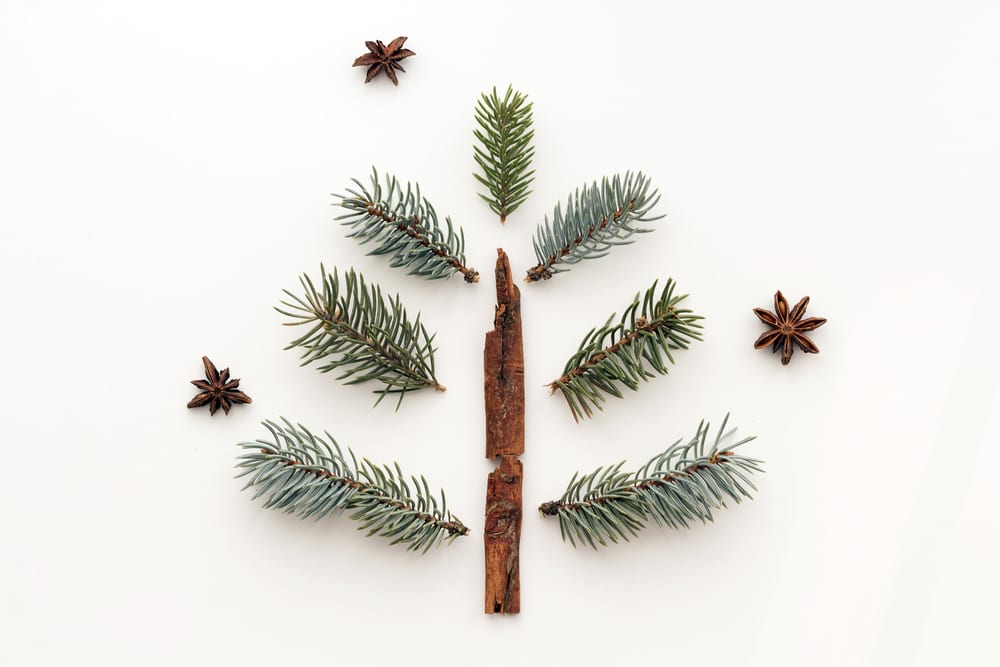 Simple Branches
Collect your preferred amount of branches to create your shape. Next, use a sturdy pot as your base. Fill it up with dirt, sand or rocks; or a combination of them– this will keep the branches in place for the tree. Certainly, you'll decorate to your desire.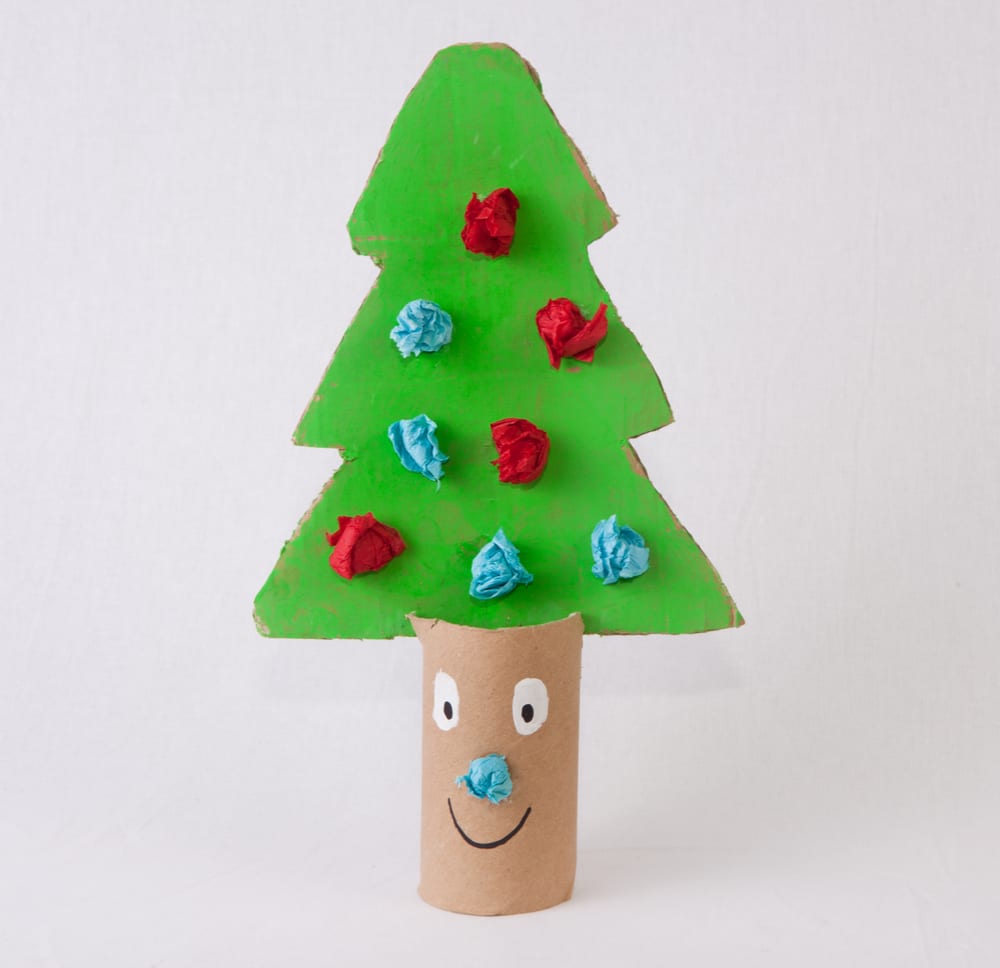 Minimal Cardboard Tree
This is the optimal minimalist option, and only takes a matter of minutes. Simply cut out cardboard into trees. You can create a little forest, or keep it to one. Add as little or as many decorations as you'd like.
Terra-Cotta Tree
With winter here, a lot of our outdoor gardens have gone dormant. Which means, lots of extra terra-cotta pots! Turn them upside down, and stack them to your desired length. String some lights or even flowers along them.