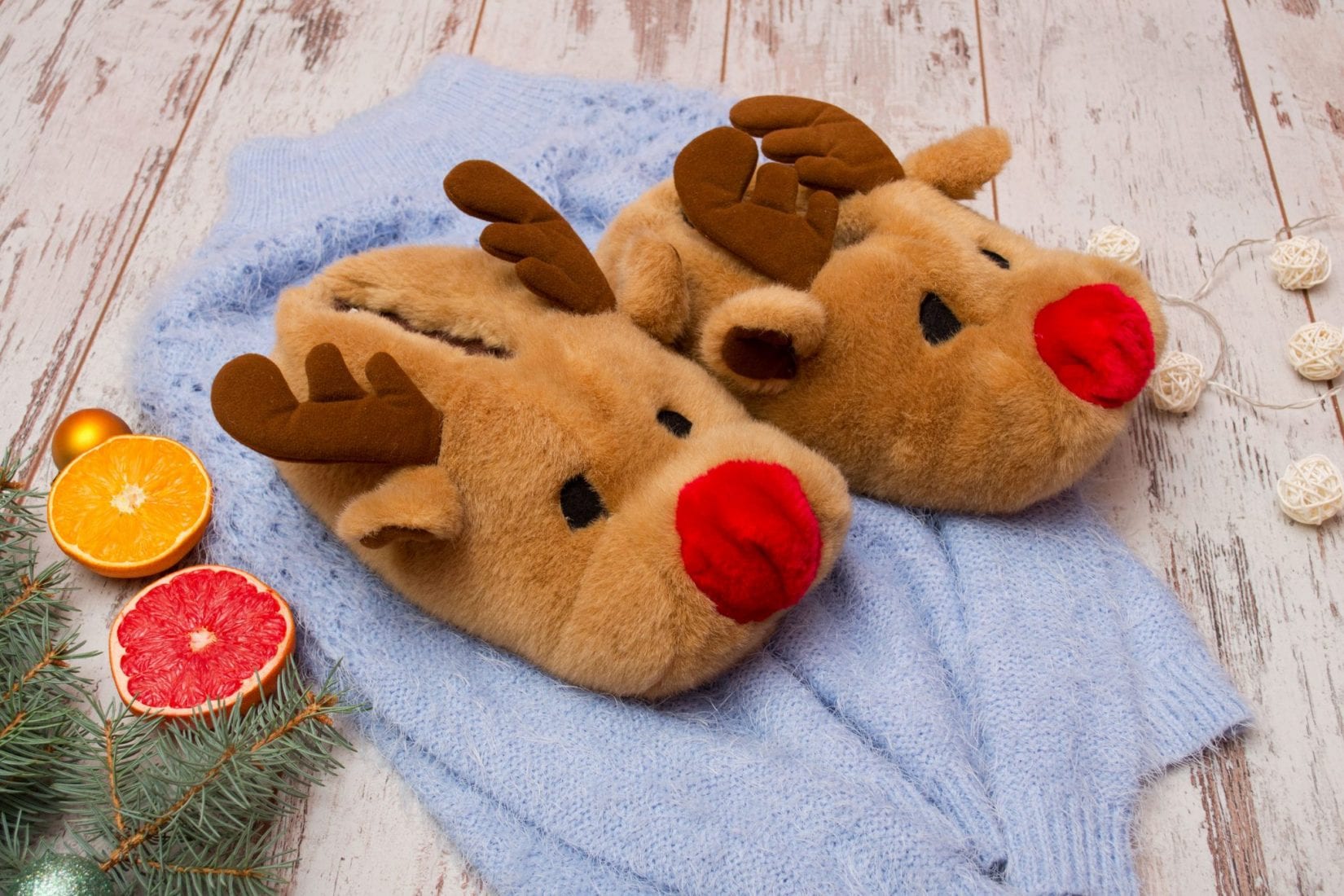 Your modern home is perfect in every way and that's great. However, your carpet-less floors are ice cold during the winter months and your toes could use a cozy place to hide. Well never fear here are 20 great ideas for DIY slippers that will suit your feet perfectly in the winter months. These slippers will astound you and keep you warm. They also make excellent gifts, if I may say so. So be sure to make yourself a pair and the make one for me. Just kidding! Make one for your loved ones as well. Nothing better than a beautifully crafted gift from someone you love.
Winter months also mean holidays are coming up or fun in the snow. Get in on some reindeer or snowmen slippers. Even if you don't celebrate Christmas a snowman is perfect to put on your feet and walk around the house. They are cute and actually have nothing to do with Christmas itself if you have ever noticed. Go here for the tutorial.
Everyone loves the Christmas comedy Elf! So why not make your own elf slippers to warm your toes in your modern home. Go here for the tutorial.
Do you like bright red bows with glitter? Then these slippers are for you. They are called holiday slippers but can really be worn any time. They fit in no matter what season you're trying to keep your feet warm in. Check out the tutorial here. 
Take a look at these DIY Bunny slippers. Bunny slippers are so classic and completely perfect for the winter months and all year long. Go here to take a look at her crafty tutorial.
Who doesn't love Penguins? Check out this Penguin slipper tutorial here.
Check out these trendy Pom-Pom slippers. You will adore them and so will your loved ones.
You will find two different kinds of slippers on this tutorial. You will find a pink feather inspired pair of slippers and a plain black with bow pair of slippers. These are less cartoon seeming and more elegant.
Floor mat sole knit slippers are quite possibly the best and most creative homemade slippers I have come across.
No Sew Fluffy Slippers! I'm sold.
DIY simple Fleece Slippers are great for winter. These will surely keep your feet warm.
Yarn slipper socks that are too chic. Get the look here.
Crochet slippers are all the rage these days. Go here to get the look.
DIY Harry Potter Slippers are absolutely what you need to have a Happy Christmas. Go HERE to see the tutorial.
Knitted boot slippers for the win. Go here to see how to get a pair of your own.
Loom knit slippers are great for the winter months.
Velvet slippers are luxurious. Get the look here.
Unicorns have been very popular. Why not make yourself and your friends some DIY Unicorn slippers? Go here to get the look.