It's time to deck the halls with boughs of holly! If you're like the rest of us, you love decorating your house with beautiful Christmas decorations. One of the most important and often forgotten places to decorate is your fireplace mantel. However, as proven by décor experts, the mantel is the perfect place to add festive cheer to your living space. Whether you prefer traditional or modern decorations, you might be inspired by these five mantel décor ideas.
Stockings Hung By The Chimney With Care
Christmas is all about traditions. What's more traditional than stockings? Hang the stockings by the mantel. To jazz up this décor, add garland, strands of lights, and candles. The mantel is cozy, inviting, and features the traditional décor you love most about the holidays.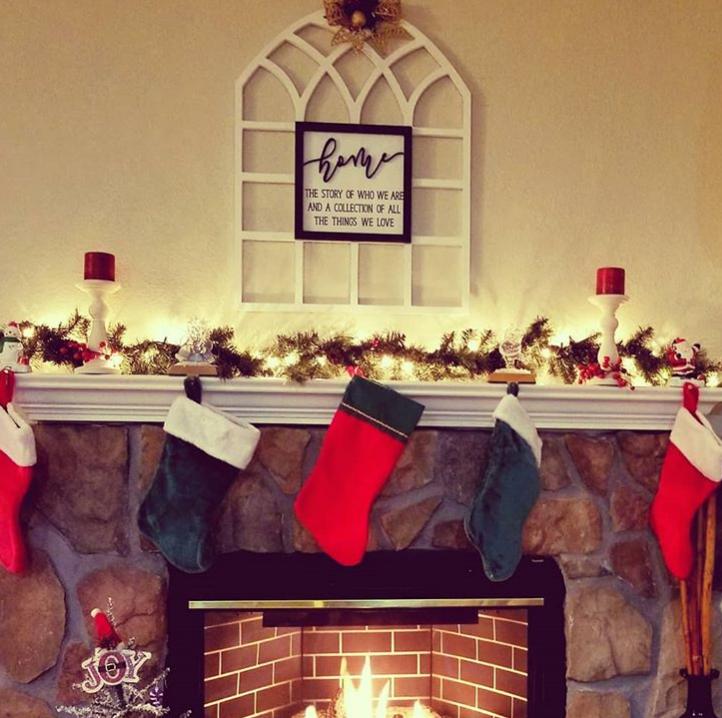 valarernest/Instagram
It's easy to be traditional with your decorations. In addition, be creative with your stockings. Add formal font and glitter to be as unique as possible. Stockings can be décor items, not just to store candy and treats left by Santa Claus.
The More Garland The Better
Sometimes, the more clutter on a mantel actually brings more festive cheer. Cover the mantel with multiple strands of garland, with ornaments and large bows hanging off the evergreen. To add more rustic charm, feature lanterns, and miniature evergreen trees along the mantel.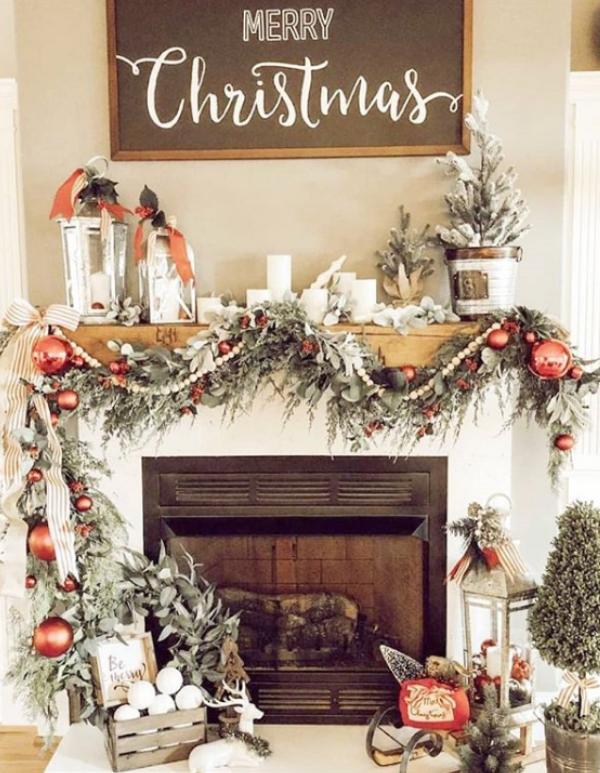 simpledecorwithamy/Instagram
The large "Merry Christmas" wooden sign above the mantel completes this design choice. There's plenty of options for the "cluttered" décor choice, but as long as you incorporate your personal touches, it'll be a gorgeous, impressive mantel for your living space.
A White Christmas
Are you ready to have a white Christmas? This decorative fireplace mantel is the most modern design choice on our list. But just because it's the holiday season doesn't mean you need to have a splash of color. Instead, you can channel freshly fallen snow by having a white mantel and plenty of white decorative items.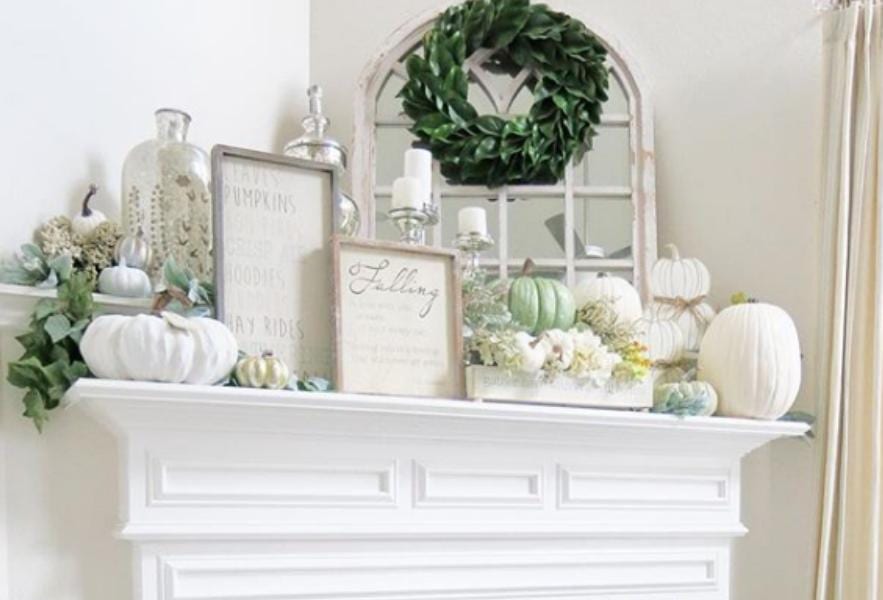 nissalynninteriors/Instagram
Many of these decorative items can be autumn and winter-themed, not specifically geared towards the holidays. Complete the look with a small evergreen wreath. A white Christmas mantel will make your living space feel modern, clean, and bright.
Honoring Santa Claus
Who comes down the chimney every Christmas Eve? Santa Claus! One way to welcome and honor the jolly man is to dedicate your fireplace mantel to him. For example, you can have Santa Claus figurines with his loyal reindeer. You can have a calendar countdown to when Santa will arrive with presents for your children. Finally, you can incorporate plenty of red and green colors into the mantel décor (with the garland, for example) to be festive.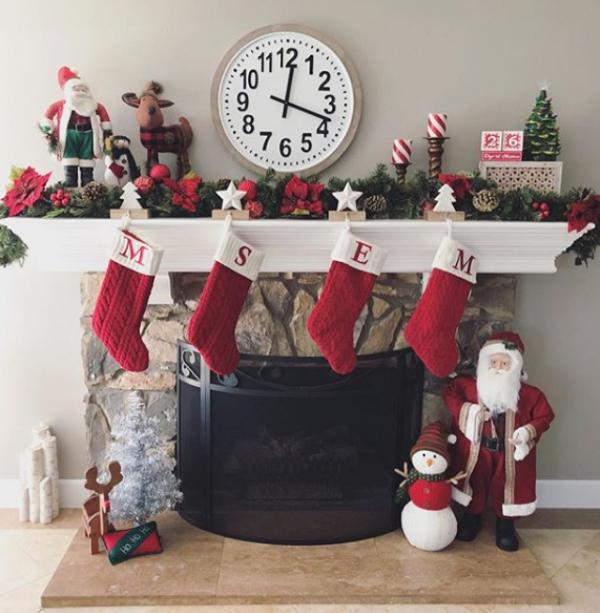 uniquelymeandfamily/Instagram
Children will love this fireplace mantel. They'll believe Santa will appreciate the honor, too.
Walking In A Winter Wonderland
It's the most wonderful time of the year. Decorate your fireplace mantel to resemble your favorite season. Add strands of garland (frosted with snow), miniature evergreen trees, a variety of stockings, and festive blankets.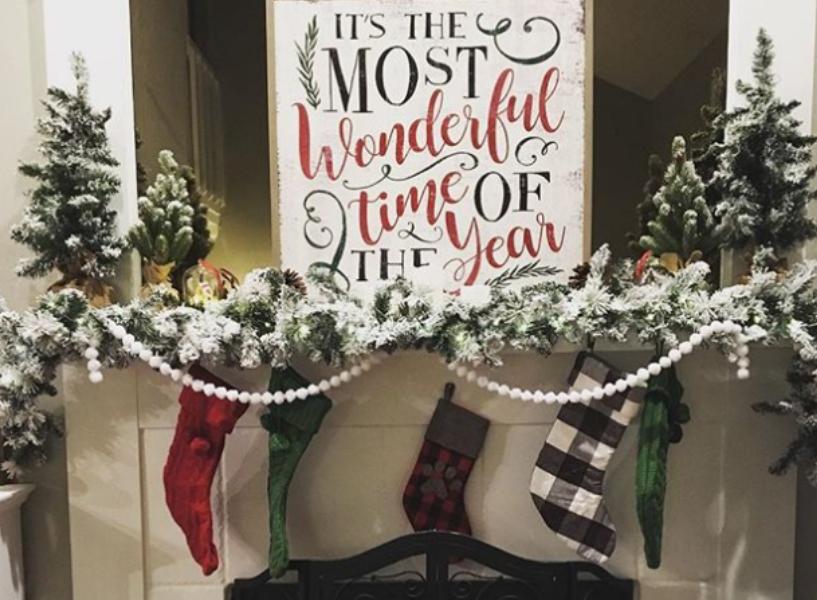 northbrooklanehome/Instagram
But what completes the décor is the decorative wooden sign, reading, "It's the most wonderful time of the year." With a fireplace mantel like this one, it really is the most wonderful time of the year.