You don't want to be the only house in the neighborhood without any front porch festive decorations. It's almost a competition: who is the most creative neighbor? Who can "outdo" each other? Just in case you need some inspiration this holiday season, review these five decorating ideas to have a festive show-stopping front porch.
Season's Greetings
Go big or go home, they say. This holly jolly front door entrance has all your season's greetings: the "Joy" wooden sign, the "Merry and Bright" doormat, the evergreen garland around the door, the ornament sign hanging on the door, and the miniature evergreen tree with wrapped boxes.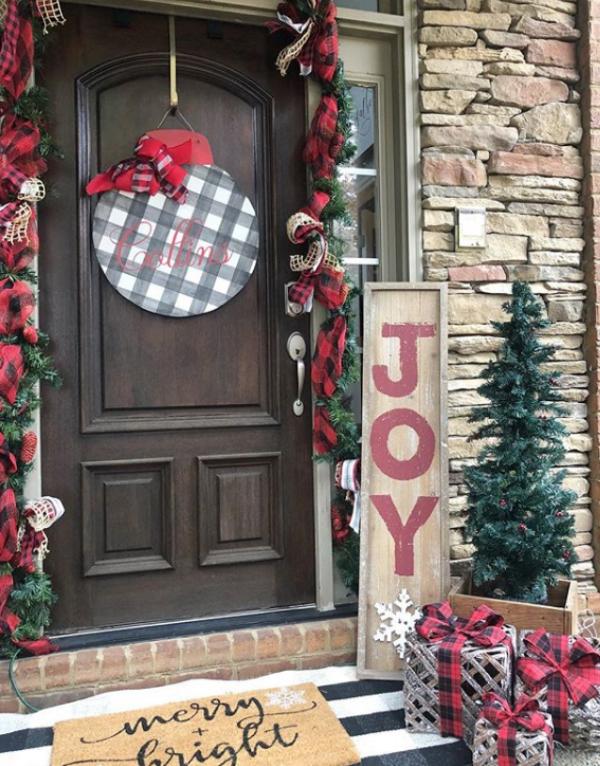 wilshire_collections/Instagram
This front door entrance is creative and adds wonderful curb appeal to your home. Not only is it festive, but it will be the perfect way to greet guests this holiday season. Your friends will be impressed the moment they arrive at your holiday party.
Go Country Rustic
Farmhouse and country rustic is the most popular décor trend in 2018. Thanks to Joanna Gaines, everyone wants to bring a little bit of farmhouse and the country to their home. Your front porch can also feature festive country rustic décor. Use a variety of vintage pieces, including lanterns, a sled, garland, and more, to create this stunning front porch.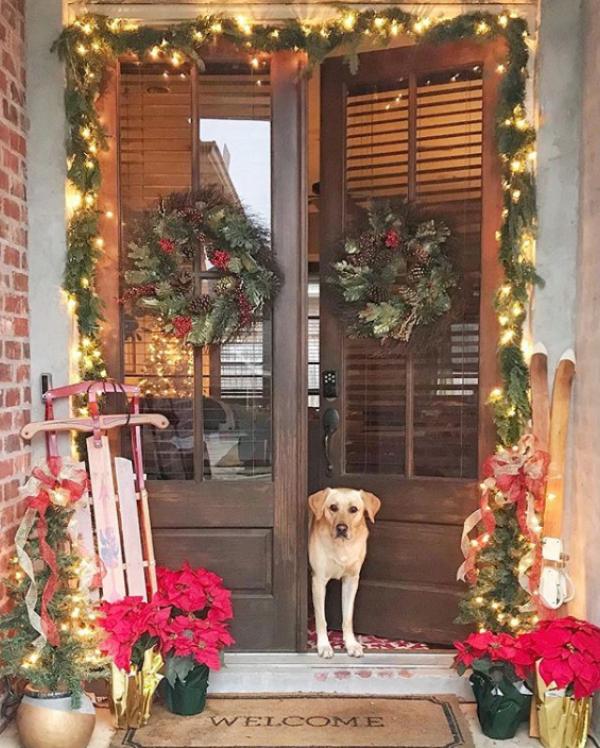 thissouthernhome/Instagram
Luckily, you can find many of these farmhouse and country rustic décor items at flea markets. You don't have to spend a lot of money to create a welcoming, one-of-a-kind entry.
Keep It Simple
Just like you don't have to spend a lot of money on your front porch décor, you can also have a simple entry to your home. If you're a fan of simplicity, this front porch décor is perfect for you. Hang a simple wreath on the door, garland around the door, and place a doormat for your friends and family to brush off their snowy winter boots.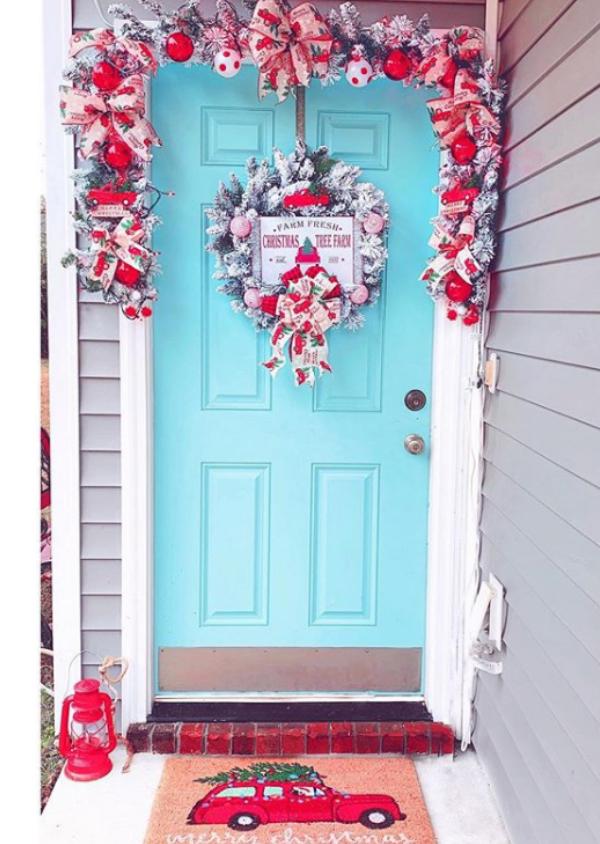 townhomediaries/Instagram
This is a budget-friendly way to add a small amount of festive cheer to your front porch this holiday season.
All The Evergreen
Sometimes, you can be simple even with evergreen. Maybe you're not a fan of lights, rustic charm, and decorative boxes. Maybe you don't want an over-the-top display. Instead, you'd rather decorate your front porch railing with evergreen garland (tied with large bows), a simple wreath hanging on the front door, and a miniature evergreen tree.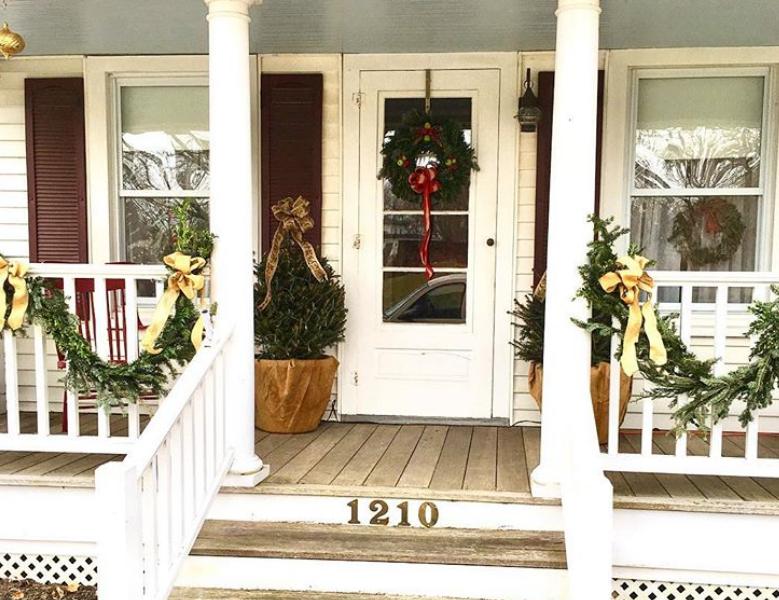 drcervone/Instagram
You don't have to add any more decorations unless preferred. Show your appreciation for evergreen this holiday season. It's okay to be simple every now and then.
A Combination Of Everything
Maybe you don't have a specific design preference. Maybe you love a little bit of everything. Thankfully, this front porch displays a combination of all your favorite holiday decorations. This includes the painted wooden sign, the lanterns, the farmhouse rustic signs, the doormat, the modern evergreen trees, and wreathes. Lights on the trees add a finishing touch.
This front porch décor is cozy and inviting. The white lights are simple, but they will impress everyone who visits your house.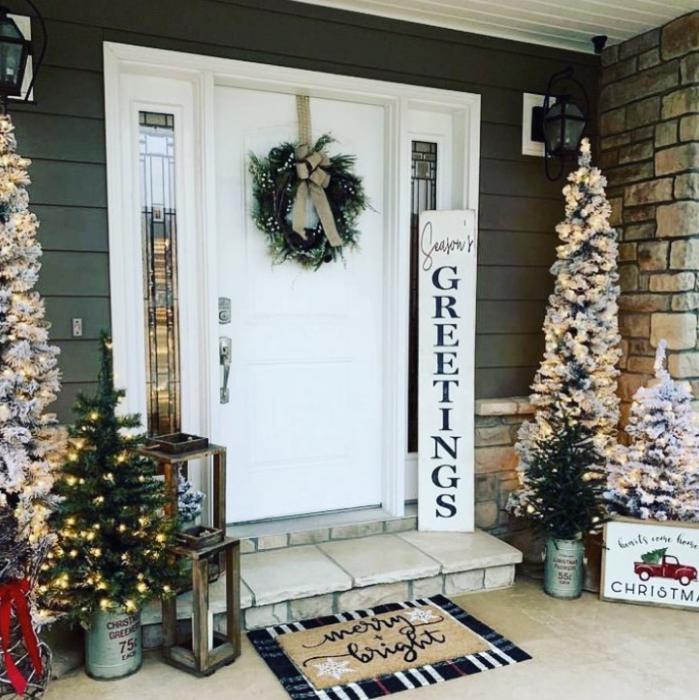 thegraceandgrit/Instagram
Be creative with your holiday décor. But most importantly, have fun this holiday season.