If you're all about a modern or clean look then contemporary furniture is your go-to. You either have just discovered this, have known this or are about to discover that contemporary is your go-to look from this article. Why in 2018 do people prefer contemporary to the traditional wood looks and heavy furniture? Well for one, we have realized that having a sleek clean look not only looks more appealing to us but that it makes your space feel more relaxing and bigger. Some of the contemporary dining sets we are about to take a look at are indeed space saving, but some of it is just the aesthetic that makes the home feel brighter and cleaner.
If you have ever spoken to a designer of websites or other modern areas of everyday life they will tell you the first they look for is simple and sleek lines. You will often hear the word "clean" come out of their mouths and if you're wondering what it looks like wonder no more. It's the contemporary or futuristic look. We are talking glass, light woods and metals that are in different and unique positions.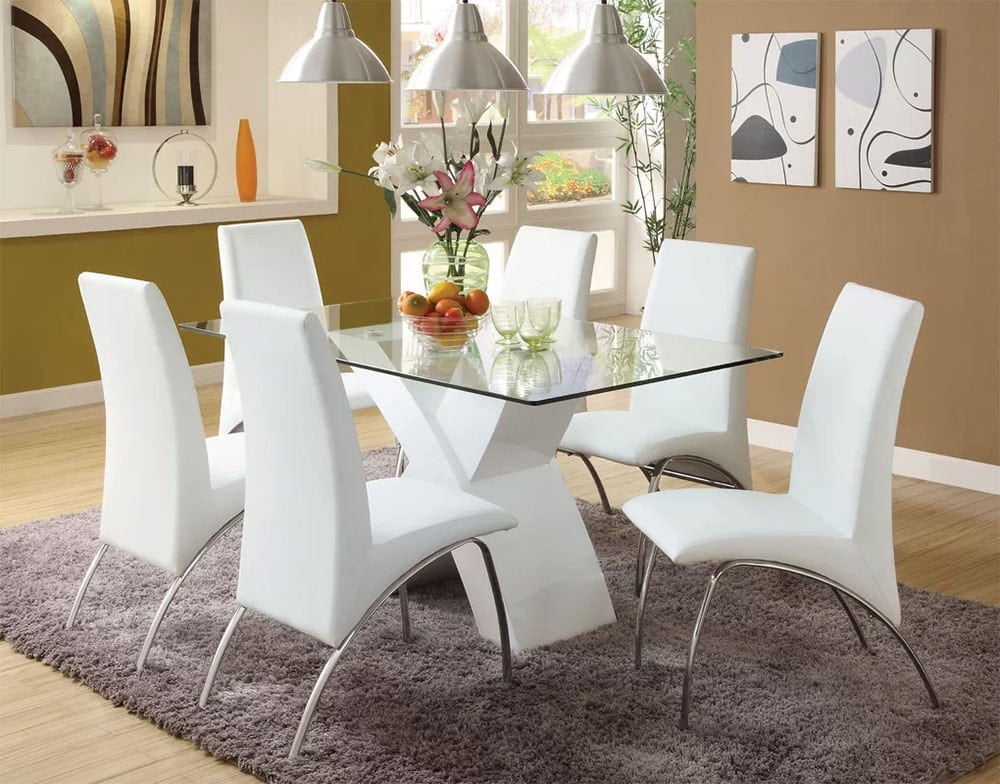 This first contemporary look that is currently trending has white futuristic looking chairs with shorter, unique and thin metal legs on the chairs. These chairs are complimented with a glass table with white thick legs in a crisscrossed look. This is not only modern and "clean" looking, but it has a futuristic look that makes you think you may have landed on a space station. This is ideal for the contemporary look and one of the most popular looks this year for dining room sets. You can get the look here for around $1600.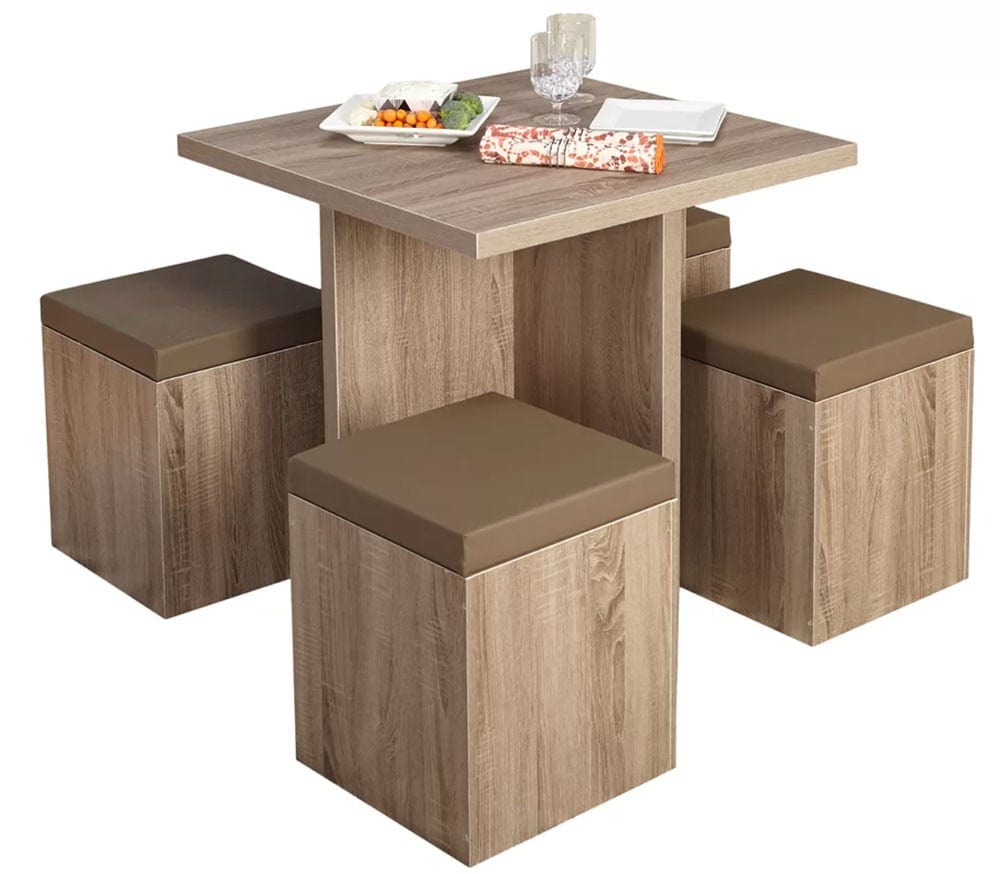 Looking for some wood for a warmer contemporary look? Look no further than this popular and inexpensive space saving dining room set. The block shape of the table and the seats aren't just space saving since the seats can be stored underneath (ideal for an apartment or tight living space), but it also gives clean lines and that contemporary almost futuristic feel you're looking for without coming across as cold. The light wood makes the space homey and warm. Get the look for about $300.00 here.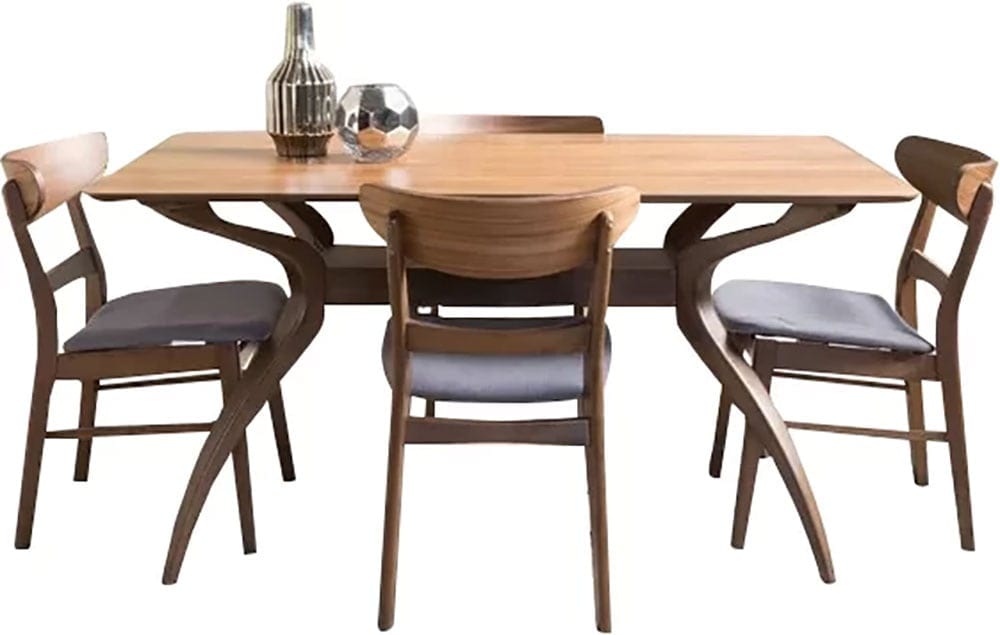 Still looking for that warm wood feel without needing the space-saving aspects of the above dining room set? Then this next contemporary trend is for you. It's contemporary vintage as I put it. It has that California 1960s furniture feels with the grains and textures. Yet, it has a futuristic and contemporary flair within the design of the table and chair legs. They aren't quite your typical dining set legs that are straight. Instead, they have a curved appeal that makes them contemporary. This is a vintage take on contemporary that is taking over homes all over the country this 2018. I think that this trend will continue into 2019 as well. And why not? It's classic with a touch of modern. Perfect match for the best of both worlds. Get the look here for around $500.00.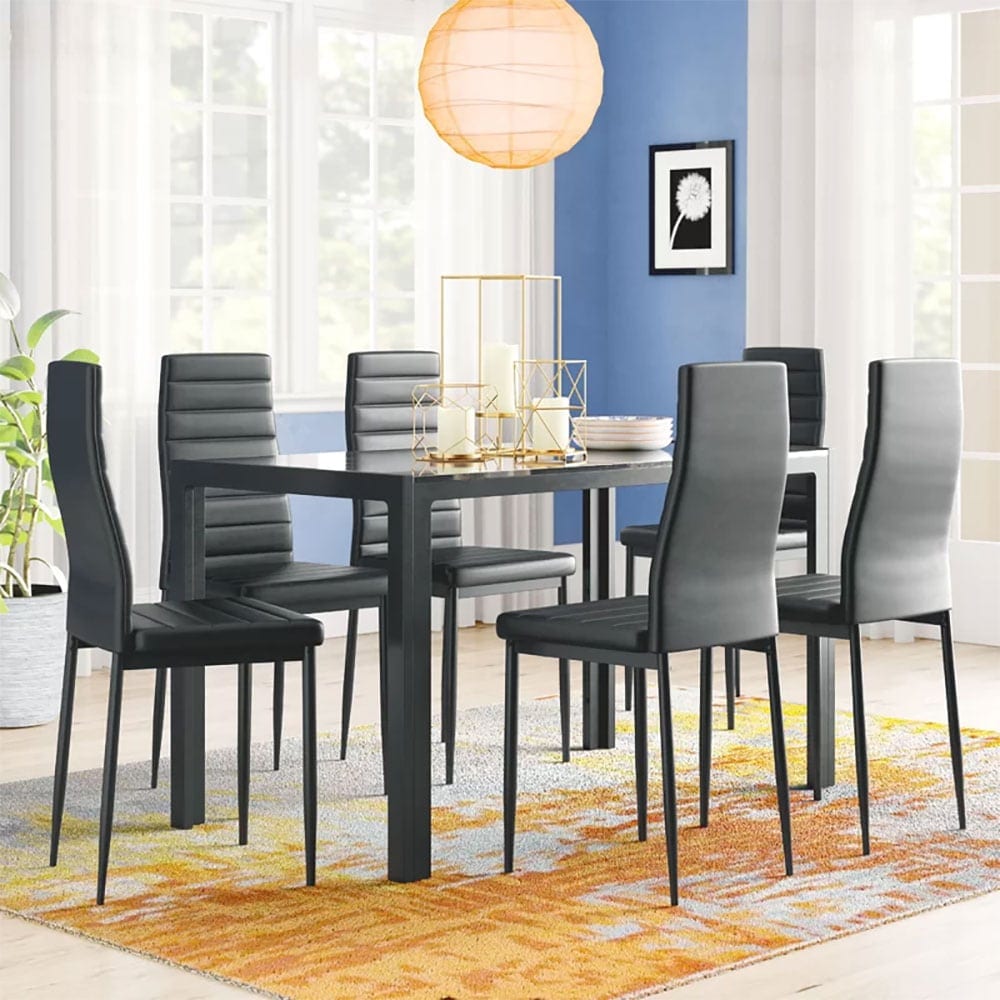 Maybe you like the colder contemporary look? Something that speaks to the extremely modern and trendy you? Perhaps you don't want white or wood to give a homier feel, but you want the cold look. You want to feel like you're eating in a fancy contemporary hotel in Las Vegas or that you're in a super modern office? Then this dining room set is for you. It has a futuristic look with the curves on the chairs and the thick line texture on the back of the chairs. These chairs have the great thin legs that almost look futuristic and pinpoint, but the table that goes with it has mixed up the look with a chunkier table leg look. This mismatched leg look is something that contemporary furniture not only prides itself on but has become a growing trend in contemporary dining room sets over the last year. Get the look here for around $400.00. While you might love this style, but not the black color you can always find something similar in a white or wood grain that would give you that contemporary feel while being much homier.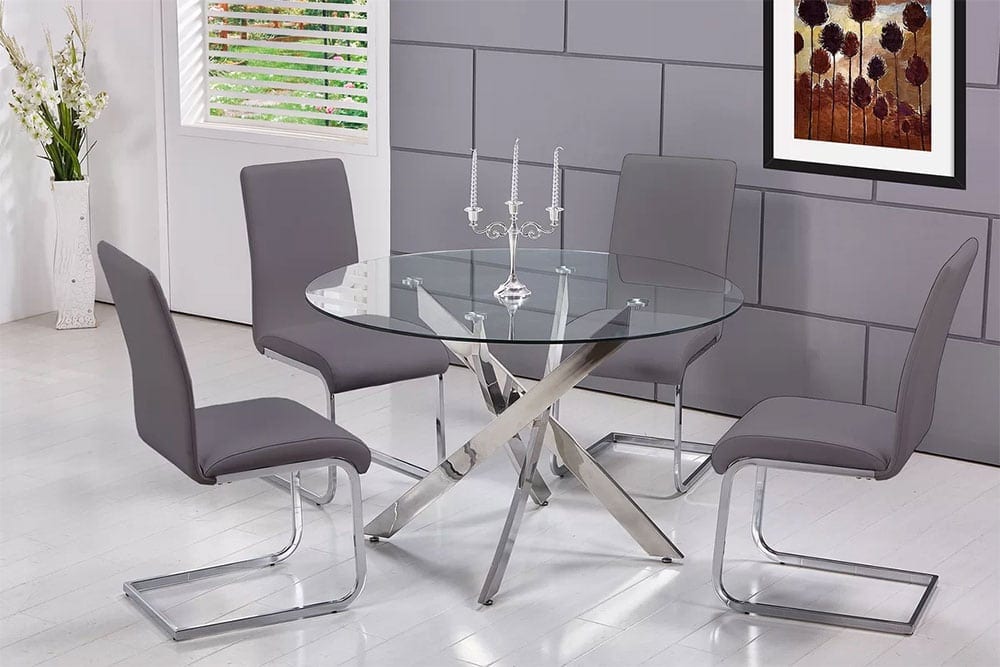 Perhaps you love the metal looks from the contemporary style. You want your table legs and chair legs to be a metal. Not a problem. This next look incorporates not only that California vintage look as I call it, but the futuristic contemporary look you're looking for too. And this set isn't just a cold metal feel, but it's homey with the grey chair material. You can always make your set warmer with textured fabrics or warm colored leathers. This roundtable look has the crisscrossed legs that scream contemporary furniture. This crisscrossed look has also been a growing look throughout furniture. Even more traditional furniture has been popping up with this look. Either way, it's beautiful and this is a set you will want for your home or apartment if you're looking for a smaller set. You can also find big sets with this same look, but this particular set is about $800.00. Get the look here.
Contemporary furniture will always be iconic, clean and sleek. You simply have to decide which style is right for your space and dining room. Hopefully, by looking at these sets you have learned what you like in contemporary dining room furniture or what aspects you want for your home. Do you want a cooler look or a homier one? It's a tough decision.